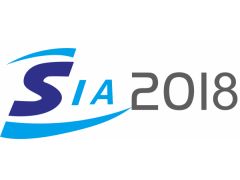 2018 Guangzhou International Modern Industrial Intelligent Equipment Exhibition - Industrial Automation and Robot Exhibition
Start time : 2018-09-12
End time : 2018-09-14
Exhibition Venue: Guangzhou Pazhou Poly World Trade Exhibition Center
2018 The 16th Guangzhou International Exhibition of Modern Industrial Intelligent Equipment, abbreviation (SIA China) will showcase industrial automation technology, industrial robots and core components, industrial assembly and transmission, machine vision and sensors, AGV carts, embedded systems , industrial communications and Internet of things, smart manufacturing, smart factory solutions, industrial automation solutions and other product areas.
We sincerely want to invite you to participate in this upcoming event. We will show our latest product line of linear actuators, lifting column series, and related accessories, the optimal environment for industrial automation.
We look forward to meeting you at the 2018 Guangzhou International Modern Industrial Intelligent Equipment Exhibition in our booth: H51-52.
Our team would love an opportunity to hear about the development of your projects and discuss what we can do to better meet your needs.
GeMinG SALES TEAM