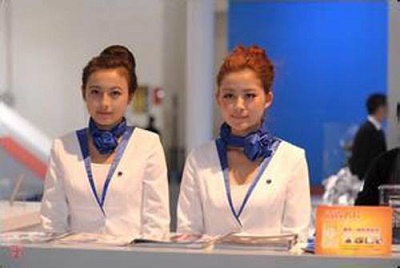 A well-dressed, well-talked person always gives a refreshing and pleasing feeling in life, and for a company, the image can determine many things. A good mental outlook can not only improve employee morale, It can also attract customers' attention. Then, when a company exhibits at the exhibition, it is an important window to fully display the company's image. A customer-speaking and generous customer service will definitely give customers a bonus to your company. Welcome their respect. However, in reality, the image of many company employees at the exhibition does not feel so pleasing.
Today, Xiaobian listed the following 15 details that should be noted at the exhibition. In contrast, how many do you do?
1. Display a unified corporate image
People often say that work clothes are the most important form of corporate culture. Wearing uniform corporate clothing at the exhibition, wearing a work card, and branding their own names, positions and company names, showing a good corporate image, this is the first and the basic.
2. Stand up to receive customers, don't sit
In most people's eyes, standing more than standing can show active enthusiasm, so sitting in the booth during the trade show, leaving the impression that visitors do not want to be disturbed. As the saying goes, if you show enthusiasm, you will become enthusiastic, and vice versa. If you are impatient, you become impatient and irritating.
3. Don't read magazines and read newspapers
There are a lot of people who are boring during the conference, because they have to do a long time of repetition, so always want to make a small difference, find a newspaper or magazine to pass the time, think about it, every 10 feet of strip space in the standard booth. In it, you only have 2-3 seconds to get the attention of the other party and attract him to stop. If you read a newspaper or magazine again, it will not attract attention.
4. Don't eat snacks at the show
Some people have the habit of eating snacks in their lives, so when they start the meeting, they are ready to eat in advance. As everyone knows, if the customer arrives at your exhibition area and looks at the melon peel on the table, you will feel that you are vulgar. Okay. Moreover, potential customers are not willing to bother you when you eat, they are too polite.
5. Actively welcome customers
Being slow is the most taboo move in social situations, so we must be active and enthusiastic in the exhibition area. If we slow down a potential customer, even a few seconds will not work. No one likes to be scorned. If you are busy when a customer comes over, you may wish to say hello or let him join your conversation. If you talk to an exhibitor or someone next door, stop right away.
6. Do not call on the spot
Some people in the exhibition area, there are always a lot of chores and personal matters, from time to time to answer the phone, sometimes have to interrupt the conversation with the customer, giving people a very bad feeling, every time you use a minute call, it will be the same potential Customers talk less for a minute, even if your business is slow at the show, even if you only find a good potential customer is successful. And when you call, you may miss him.
7. Don't send information when you don't see the customer
It is an indispensable part of every company to carry out the leaflet. However, if you receive a leaflet through each exhibition area at a large exhibition, they will feel very annoyed and the cost will be the same. It's not expensive, and you don't want the costly propaganda materials to be lost in the crowd. So how do you send the information to potential customers? Send it to him. Tell potential customers at the show that you don't want him to bring too many promotional materials and increase his burden. After the show, you will send the materials he requested to him. You can do it in one fell swoop: you are very professional, with a letter Follow-up seems more intimate, but also gives you a good reason to follow up on the phone in the future.
8. Don't talk to people in other booths
Some employees feel bored when they have no customers at the booth. They always want to chat with people in the booth next door. Lala is a regular family. If you don't want visitors to stop in front of your booth, they will naturally walk away. Seeing that you are talking to others, they will not come to bother you. So talk to the exhibitors or employees near the booth as little as possible. You should talk to potential customers instead of chatting with your friends.
9. Don't take people by appearance
As the saying goes, people can't be seen, thousands of people in the world, everyone's preferences are different, what kind of customers are there at the show, and some people like to wear jeans, sweatshirts, pants, no mountains, no water, low-key and modest. Some people like to wear high-end luxury clothes, which are high above. In fact, the bags are empty, so don't look down on people because they are casual.
10. Be full of enthusiasm
Some people new employees are not very suitable for such occasions because they are attending the exhibition for the first time, so they always seem to be cautious. As for the customers who come to see the exhibition, face so many participating brands, if you want to attract He has to stop, you have to be very infectious, and you must enthusiastically promote your business and products. In the eyes of visitors, you represent your business, and your words and demeanor will have a great impact on visitors who know your business.
11. Make good use of the name of the potential customer
People like to call their own names, and trying to remember the names of potential customers, which are mentioned from time to time in the conversation, will make him feel important. Be bold, look directly at the famous brand on the chest of the visitor and read his name aloud. Ask if you have a hard-to-read name. If it's a very unusual name, it might be the best step for you to build relationships with potential customers.
12. Understand the competition
Participating in the exhibition is not just a simple product display, but a potential marketing. It should stand out from all exhibitors and impress customers. So before the exhibition, collect as much information as possible about competitors and ensure yours. Sales people know everything about it. Each employee is assigned a task to let each of them find out the situation of 1-2 participating competitors. Let them visit the competitor's booth and see what new products they have launched. Try to collect all the information that will help your business, such as the other party's pricing, product comparison, payment terms, delivery methods, etc.
13. Designate a person to receive the media
The large-scale exhibitions held in the general industry are the best places for media people in related industries to tap the news. Therefore, there may be journalists who will go to your booth to find news clues that day. At this time, you must arrange someone to be your business contact with the media, so that you can ensure that your company's publicity is always consistent. If every exhibitor can talk to the press, you will be asking for trouble. No matter how effective your training is for your employees, it is impossible to unify your calibre.
14. Wear a good name brand
At the show, you definitely want to make a good impression on the customers and let them remember you. At this time, if you put the brand name on your left chest, you make a mistake. The brand name should be worn on the right side of the body, close to the face. Because you shake hands with the right hand, your right shoulder will lean forward, and the left arm will move to one side, then the nameplate worn on the right will be closer to the other side.
15. As long as you squint, you have to work
Some employees feel very boring when they are sitting in the office every day. So once the company wants to engage in activities, it is very happy. I thought I could take this opportunity to take part in the activities. As a rest, in fact, such an idea is very naive, participate in the exhibition. No matter where you are, it's not a holiday, but it's hard work, you have to stand all day; meet hundreds of strangers, make you exhausted; eat and eat bad, and not on time You will have a headache because of excessive brain use; you will shake hands all day and your hands will swell.
Adding an exhibition is not a reward, but it will make people feel good. The resulting business is enough for you to work for months, even years. The key is to keep working at the show. There is no working time here, you have to make full use of every opportunity to reach customers and potential customers. Have breakfast with potential customers and let them take the car you rented to the show. If you don't rent a car, you can rent it together.
I want to take a break at the exhibition, not to say that I am not working, but to avoid standing up. You can invite potential customers to have a cup of coffee, set a time to have lunch with the press, and arrange for the exhibition to close with the new one. The customer goes out to have a few drinks and dinner with a certain person. Rest can only be returned to your room after dinner. If these methods make you afraid of the exhibition, please stick to the exhibition. Usually only a few days, for so many potential new business, it is worthwhile to sacrifice a few days of rest, and this is a good opportunity for interpersonal training.