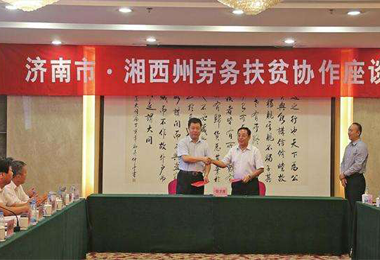 Chian
Linear Actuator
Website: In 2017, Jinan and Xiangxi were closely involved in the decision-making and deployment of the Central Government, Shandong Province, and Hunan Province. They firmly grasped the overall requirements of the Central Committee to win the fight against poverty, strengthen performance management, focus on goal orientation, strictly assign responsibilities, and pay close attention to work implementation. In areas such as industrial cooperation, labor cooperation, talent support, financial support, social participation, and hand-off of well-to-do level, the cooperation has been fully enhanced and the work has progressed in an orderly manner. In 2017, Xiangxi Prefecture reduced 150,000 rural impoverished people and 229 poverty-stricken villages. The poverty rate dropped to 10.52%, and the per capita disposable income of rural residents reached 8,300 yuan.
Strengthen organizational leadership and establish a long-term mechanism
Establish organizational leadership. Jinan City was established by the Secretary of the Municipal Party Committee, the mayor as the team leader, 4 municipal Party Standing Committee members and 1 deputy mayor in charge of the deputy leader, the relevant district government and the relevant municipal departments are mainly responsible for the city's poverty alleviation coordination and counterpart support work leading group led by the comrades. Poverty alleviation coordination, work guidance and assessment supervision. Establish a departmental counterparty implementation mechanism. The Municipal Office of Regional Affairs (Cooperation and Exchange Office) serves as the leading group office's responsibility for daily contact, scheduling, coordination, and service with Xiangxi Prefecture. The districts and departments that have undertaken the tasks have also established corresponding leading organizations and promoted implementation mechanisms. The two sides set up a high-level joint conference system, hold regular mutual visits each year, hold joint meetings, study major issues in the deployment of poverty alleviation collaborations, and establish a quick, flexible, and unobstructed collaborative channel to form a comprehensive, multi-level, and regular exchange and cooperation mechanism. Accurate connection between poverty alleviation and coordination at all levels in cities and counties.
Conduct docking exchanges. On February 24, 2017, he was headed by Wang Zhonglin, deputy secretary of the Jinan Municipal Committee and Mayor, and deputy head of the deputy secretary and organization minister of the Jinan Municipal Committee. Jinan party and government delegations with comrades in charge of related districts and departments went to Xiangxi to inspect the delegation. The first joint meeting of the two sides was held for investigation and research. The framework agreement for cooperation in poverty alleviation was signed between cities, counties, districts and counties. On May 22, Ye Hongzhuo, secretary of the Xiangxi State Party Committee, led the party and government delegation of Xiangxi Prefecture to Jinan City and held a second joint meeting to arrange for the next step. On September 19th, Chairman Lei Jin of the CPPCC Jinan led a delegation from Jinan City to Xiangxi Prefecture to attend the celebration of the 60th anniversary of the establishment of the State of Zhangzhou, and examined local economic and social development and the promotion of poverty alleviation collaboration. On October 13, Liu Changgang, chairman of the Hunan People's Political Consultative Conference, visited the delegation. On December 6, Xu Qiang, deputy director of the Municipal People's Congress, led a team to Xiangxi to conduct research and investigation on charity support and promote related work.
Establish and improve the "1+7+11" docking mechanism. On the basis of city state pairs. The seven districts with better conditions in Jinan City were established, and seven districts in Xiangxi Prefecture were established to support the relationship between districts and counties, and 11 departments had established cooperative relations with counterparts in Xiangxi Prefecture. On February 24, the two regions signed "1 +7+11" Poverty Alleviation Collaboration Framework Agreement (Jinan Municipal Government and Xiangxi Prefecture Government, Jinan District Lixia District, Shizhong District, Huaiyin District 7 Districts, and 7 Guofu County of Xiangxi Prefecture, Jinan City Economic and Information Committee, People 11 departments including the Social Bureau and the Commission for the Promotion of Tourism and the 11 departments of Xiangxi Prefecture signed a cooperation agreement respectively), clarifying matters such as financial support, key assistance, work-matching mechanisms, and holding work conferences for poverty reduction collaboration. By the end of 2017, Jinan City had enriched and adjusted the leading group of the East-West Poverty Alleviation Collaboration and counterpart support work, expanded the number of its member units to 21, and mobilized more direct municipal departments to participate in the East-West poverty alleviation collaboration.
Research and formulate opinions, plans and plans for poverty alleviation collaboration. Formulated the "Opinions of the CPC Jinan Municipal Committee and People's Government of Jinan Municipality on Doing a Good Job in Poverty Alleviation Collaboration in Hunan Province, Xiangxi Prefecture" (Jifa [2017] No. 8), which specifically put forward work requirements for the strengthening of poverty alleviation coordination in Xiangxi Prefecture and clarified cooperation in poverty alleviation Work guiding ideology, basic principles, main goals, work tasks, and safeguard measures, etc.; formulated the "East and West Poverty Alleviation Collaboration Plan (2017-2020) in Xiangxi, Jinan City" and the annual assistance program, which indicated the direction for the development of poverty alleviation collaboration. Objectives: On the morning of November 9, the Jinan Regional Office (Cooperation and Exchange Office) and the State Development Bank of Shandong Province Branch, the Hunan Provincial Branch, and the Xiangxi State Development and Reform Commission jointly signed the Collaborative Agreement on Poverty Elimination between the East and the West, clarifying the form and content of cooperation. The focus will be to increase the support of development finance for the poverty alleviation collaboration between the eastern and western regions of Xiangxi, Jinan.
Strengthen intellectual support and reinforce talent base
Party and government cadres laid off their posts, and Jinan City dispatched cadres in four batches and went to Xiangxi Prefecture to exercise their posts. Each batch of nine people was held for a period of one year. In Xiangxi Prefecture, four batches of cadres were sent to Jinan City to study on-the-job training. Each group of eight people had a term of one year. In terms of professional personnel exchanges, two-way employment, technical guidance, training in the two places, commission training, group education, medical support, and agriculture support were used to effectively strengthen the two sides in education, health, agriculture, urban planning and management. Talent Exchange. In terms of education, the two parties have reached the team quality improvement project, the special education student care project, and the inter-school twinning assistance project. As of now, the principal training program has been implemented, that is, the "National Training Program - Training Course for the Rural Principals of the Western Ethnic Poverty-stricken Areas". 50 people have been successfully held; in October, Xiangxi Prefecture sent 20 education and management cadres and 20 key teachers to exchange training in the Shizhong District, Jinan City. In terms of health, the two parties reached an agreement on cooperation in discipline construction and personnel training, and established about 20 key disciplines for direct medical units such as the People's Hospital of Hunan Province, the State Chinese Hospital, the State Cancer Hospital, and the State Psychiatric Hospital, and strive to achieve provincial-level key disciplines. . At present, Jinan City has sent eight medical experts to Xiangxi to carry out medical work and helped train 375 medical personnel. Xiangxi has sent 12 business leaders to Jinan Central Hospital and Children's Hospital for further studies. In terms of agriculture, three training courses for farmers brokers, agricultural technicians, and administrative personnel were held. 100 people were trained in two phases every year. 100 Xiangxi agricultural management personnel and technicians were divided into two batches in May and November. Trained at the training base for farmers in Jinan City, they learned advanced vegetable cultivation techniques, management models for new agricultural management, and successful experiences of agricultural enterprises. From June 27 to June 29, the Bureau of Animal Husbandry and Veterinary of Jinan held special technical training courses. A total of 43 people from the livestock husbandry system in Xiangxi Prefecture participated in the training. In the financial sector, we have explicitly strengthened personnel and technical exchanges in the reform and development of the financial industry, investment and financing planning and cooperation, and from April 23 to 28, the Xiangxi State sent 3 financial cadres to participate in special training organized by the Jinan Financial Office; November From 16th to 18th, Jinan Finance Office invited 3 financial cadres of Xiangxi Prefecture to participate in the 20th National Deputy Provincial-level Cities Joint Meeting and 2017 China International Forum on Industrial Finance. Urban planning and management: Achieved training and exchange cooperation intentions for urban planning personnel. From October 10th to 25th, 13 of the first batch of planning and management personnel in Xiangxi Prefecture went to Jinan City Planning Bureau to conduct a 15-day exchange training, through centralized teaching. , On-site observation, field operations, etc., training urban and rural planning, application of information technology, and protection of historical and cultural resources.
Implement aid financing and strengthen capital project management
In 2017, municipalities and districts have arranged over 80 million yuan of funds to support the construction of Xiangxi (Jinan) middle school, some township center hospitals and people's livelihood projects. In order to strengthen the aid funds, project management, and improve the efficiency of capital use, the "Financing and Project Collaboration of the East and West Areas of Jinan City and Project Management Measures (Trial)" was issued. At present, the construction of aid-building projects is proceeding in an orderly manner and the aid funds are used in a standardized and reasonable manner.
Expand cooperation areas and deepen industrial support
Based on the advantages of the two places, the industrial base and the actual conditions, vigorously carry out industrial cooperation, help the poor people to increase income steadily, and promote the common development of the two places. Twenty-six industrial cooperation projects have been initiated and it is expected that nearly 3,000 people will be driven out of poverty directly or indirectly through the development of industries.
Agricultural industrialization. The two sides vigorously promoted the cooperation in the production and marketing of specialty agricultural products and jointly promoted the "4331 Project," which is Jinan's construction of four characteristic industrial parks for Xiangxi Prefecture (the Xiangxi Citrus High Quality Seed Breeding Science and Technology Demonstration Park and the Guzhang Alpine Cloud Organic Tea Blended Development of the 12th and 23rd Industries. Demonstration Park, Fenghuang Mountain Selenium-enriched Vegetable Industry Demonstration Park, Jishouyu River Recreational Agriculture and Rural Tourism Demonstration Park provide technology, market, funds, and projects; assist Xiangxi citrus, tea, kiwi and other specialty agricultural products to enter Agricultural exhibitions, tea fairs, experience halls and other three exhibitions; 3 training programs for peasant brokers, agricultural technicians and administrative personnel for Xiangxi Prefecture; and a direct marketing window for agricultural products. At present, the two sides have signed a total of 12 companies, the two sides specifically to implement the project of the implementation of the project (cooperatives) 10, the Municipal Bureau of Agriculture launched the Luanxi Pogan Standard Park, Baojing modern agricultural park, Xiangxi Citrus high quality seedling breeding technology demonstration park, Yong High-quality high-quality rice bases in the mountains, high-quality high-quality rice bases in the Phoenix Mountain, Fenghuang Mountain Selenium-rich Vegetable Industry Demonstration Park, Xiangxi cattle biological fermentation bed breeding test demonstration, introduction and demonstration and promotion of Xiangxi goats, breeding of layer chickens in Xiangxi Prefecture, and breeding of cattle in Xiangxi Prefecture And other cooperation projects. The Municipal Animal Husbandry and Veterinary Bureau selected 6 aquaculture companies (cooperatives) in Xiangxi Prefecture to implement the project, and determined that Shandong Huaxia Wellcome Breeding Company and Shandong Oaks Livestock Breeding and Seed Industry Co., Ltd. are helping enterprises. At present, 4 support projects are being implemented . In Jinan, a special agricultural product exhibition in Xiangxi was held. This year, the Jinan Tea Fair had sold 518,000 yuan of Xiangxi tea on the spot, signed seven cooperation agreements and 10 intention contracts, totaling more than RMB 12 million. In order to open the Jinan market for Xiangxi fruit, on November 2nd, Jinan City Agriculture Bureau and Xiangxi Autonomous Prefecture Agriculture Committee jointly planned the "Two places to work together to help the poor" Xiangxi Kiwifruit promotion meeting was held at the Dikou Fruit Market in Jinan City. The direct sales window for high-quality fruit products in Xiangxi was formally launched. On the day of the event, more than 30 tons of kiwifruit from Xiangxi were exported through the window, and the sales revenue was over 200,000 yuan. On December 3, the two places jointly organized a series of activities such as the promotion of Jinan in the Xiangxi Fruit (Citrus) and the fruit wholesale market in the Jinan dike mouth in the Jinan embankment fruit wholesale market. The promotion will sell 15 tons of Xiangxi fruit. At the same time, Jinan Dikou Fruit Wholesale Market has established a long-term production and marketing cooperative relationship with Xiangxi farmers, and the urban area will also set up 30 retail outlets for public purchase. Through the implementation of the Tea Fair, the Xiangxi Fruit Promotion Conference, the New Year Fair, and the direct marketing window project, Xiangxi's agricultural products have entered the northern market, bringing benefits to the increase in income for ordinary people.
New industrialization. Initially reached a number of projects (events), such as the construction of a large-scale data center in Xiangxi Prefecture, the promotion and cooperation of industrial investment promotion, the cooperation and cooperation of small and medium-sized enterprises' public service platforms, and the efforts of large-scale hands-off and small-scale assistance in precision poverty alleviation. The construction of the "Flying Bridge?4?4 Phoenix" industrial park platform and the 200MW photovoltaic power station project in Huayuan County were started. On November 22, 30 companies were organized to go to Xiangxi for a docking visit, and a cooperation forum for cooperation between enterprises in the two places was held. Inspur Group and Xiangxi State reached a smart city construction, and Shandong Lanfu High-energy Physics and Technology Company reached a joint with the Economic Development Zone of Xiangxi Autonomous Region. According to the construction of the processing base, Jinan Guangyou Logistics Distribution Co., Ltd. and Huayuan Wulong Tea Company reached market development, Jinan Tianzhuang Environmental Protection Technology Co., Ltd. and Guzhang County reached a degradable film production base and many other cooperation intentions.
Cultural tourism. On March 28th, the starting group of "Jinan Wanxi You Xiangxi" departed from Jinan. The Shandong Province Zijia You Association, the National Top 100 Travel Agency Shandong Tourism Co., Ltd. and the tourist special operator Shandong China Railway International Travel Service Co., Ltd., traveled with the ancient city of Phoenix respectively. The company and the Xiangxi Prefecture Travel Agency Branch signed a delivery agreement and included the rural tourism villages into the Jinan Wanjin Tour Line. At present, more than 40,000 people are organized to travel to Xiangxi and use local accommodation such as accommodation, shopping, and catering. Travel income is 180 million yuan. Zhangqiu District provided Suixi County with 1 million yuan in start-up funds for tourism projects and specified specific assistance projects. On May 17, Xiangxi Prefecture organized a delegation to participate in the 2017 Shandong (Jinan) International Tourism Fair. The "Mystery Xiangxi" booth in Xiangxi Prefecture was awarded the Best Booth Award, and the tourism departments, scenic spots, and travel agencies of various counties and cities in Xiangxi Prefecture were granted More than 20,000 copies of promotional materials, and signed preliminary agreements with more than 10 travel agencies such as Ka Wah, China Railway Brigade and Jia Tianxia. On May 19, a special promotion conference for Xiangxi tourism was held at the Jinneng International Convention and Exhibition Center, which further expanded the influence of Xiangxi tourism in Jinan.
Business aspects. Take full advantage of various types of trade fairs, trade fairs, and large-scale supermarkets in Jinan, hold economic and trade activities, build a trading platform, and recommend Xiangxi specialty products. On November 17, 15 specialty food companies, including alcoholic liquor company, Yingmeizi tea and Wangpo food, were organized to participate in the 11th China International Sugar and Food Trade Fair in Jinan. At present, the platforms under the "Star Angels and Xiangxi Poverty Alleviation" entity sales line have been launched at various supermarkets and supermarkets in Jinan, creating an online trading platform for the acquisition and supply of "special houses of Xiangxi Poverty Alleviation and Xiangxi". More than 30 companies including Xiangxi Biancheng Biology and Chunfeng Foods have joined the Jinan Circulation Industry Suppliers Association. Over 50 products such as Laoqi Kiwifruit, Laosu Local Specialties, Guzhang Maojian, Baojing Gold Tea and Songhua preserved eggs have been established. Sales, Jinan City exempted more than 1.2 million in costs such as advertising, merchandise entry, barcode, quality inspection, etc., through the combination of online and offline, promote the sales of special agricultural products of Xiangxi Prefecture into the economy, enter the northern market, and accelerate the promotion of local agricultural products. Production and marketing cooperation.
Precise and precise quantification to promote labor collaboration
The "3223+N" cooperation framework was established. In collaboration with labor services, Jinan Human and Social Department determined the "3223+N" target mission: to provide 3,000 jobs for the impoverished labor force in Xiangxi, and to organize training of 200 poverty-stricken families for technical colleges such as Jinan Technician College. Students, help them to improve their professional skills, and exempt tuition fees and grants according to the policy; organize 20 online and offline recruitment activities for poverty alleviation; organize at least 3 social training institutions such as Lanxiang Technical School, Sunny Sisters, and Tiangong Home Economics, and training in Xiangxi. The institutions actively connected and introduced the training mechanism into Xiangxi. The two sides jointly conducted employment skills training. On May 23, the human and social departments of the two parties jointly researched and issued the "Implementation Plan for the Work-Relevant Poverty Alleviation Cooperation of the People's Bureau of Jinan City and the People's Bureau of Xiangxi Prefecture for the Period of 2017-2020". In the "poverty alleviation workshop" and support for entrepreneurial innovation, the principle of piloting first and gradually expanding was adhered to. From 2017 to 2019, seven poverty alleviation workshops were established in Xiangxi Prefecture. In 2017, the Jinan City Humanities and Social Bureau coordinated the implementation of the advantageous enterprises in Jinan City to set up "poverty alleviation workshops" in Suixi County and Fenghuang County to conduct pilot projects; Longshan County Jabagmei Handiwork Fabrics Co., Ltd., Suixi Jinyuan Powder Co., Ltd. and Hi Five "poverty-relief workshops" have been established in the agricultural chili processing plant, Phoenix County Zhenghe Decorative Roots Co., Ltd., and Zhou Sheng Tang Biotechnology Co., Ltd. In the "two afterlife" training, the Jinan City Humanities and Social Bureau and the Changsha Municipal Human and Social Bureau, the Human Resources and Social Bureau of Xiangxi Prefecture, and the Changsha Rail Transit Group jointly signed the "Urban Framework Agreement for Supporting the "Railway Traffic Class" for Poor Family Graduates in Xiangxi State". The Jinan Technician College trains 68 "poor students" of poverty-stricken families in Xiangxi, and 43 of them are in the Xiangxi class of rail transportation, achieving "graduation as employment, and graduation as employment." The Coordination Training Institute of Jinan City Humanities and Social Bureau provides living allowances for the "two-behind students" of the poverty-stricken families in Xiangxi Prefecture. Each person will receive 2,500 yuan per person per year, and 800 yuan for transportation tolls. Coordination of Lanxiang Technical School